The Pharmacy For You
We offer compliance packaging including blister packs, medsets, and pill packs. We can prescribe for certain conditions including cold sores, urinary tract infections, strep throat, influenza, mild acne, and smoking cessation. We can order labs and provide vaccinations.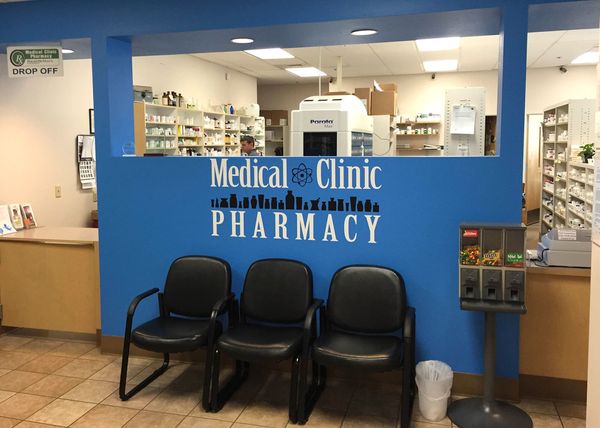 Our Story
Locally owned for over 50 years, Medical Clinic Pharmacy has met the needs of its community. Our specialty is compounding, or creating individualized medicines from scratch to meet the unique needs of local patients. Medicine has made dramatic improvements over the years, one thing that has remained the same is the pharmacy's commitment to its customers, taking care of the the old-fashioned way, with plenty of personal attention and interaction.
Owner and Pharmacist, Tyler Higgins, purchased Medical Clinic Pharmacy in 2009
Tyler Higgins, PharmD
Tyler has been a pharmacist and business owner for 17 years. Tyler is committed to providing excellent patient care to every customer who walks through his door.
Mike McKinney, Rph
Mike has practiced pharmacy in Caldwell for 30 years and has worked at Pennywise Drug for 25 years. He's known for being very friendly.
Kellye Schab, PharmD
Kellye has 25 years of experience in specialized compounding and can meet face to face for private consultations. Kellye is very compassionate.
Jon, Pharmacy Student
Jon loves to laugh while helping people and will be a multigenerational pharmacist. He has an extreme desire to help patients with any concerns or needs.
Cindy, CPhT
Cindy creates compounds. She loves to interact and find out about her patient's lives and strives to know each patient's name and compounding needs.
Jaimee, CPhT
Jaimee specializes in compliance packaging to assist patients in taking medications correctly. She's always polite and courteous when helping customers.
Violet, CPhT
Violet is fluent in Spanish and English, is an extremely hard worker, and will go above and beyond to make sure the patient's needs are met.
Beau, CPhT
Beau helps with medication deliveries and mail outs. He's very knowledgeable about computer systems, gives vaccines, and is very experienced.
Tashina, CPhT
Tashina has 15 years of experience compounding medications. She has served in the military and loves to go the extra mile for meeting needs of customers.
Lisa, Pharmacy Tech
Lisa has 30 years of experience with K-Mart pharmacy in Nampa and here. She is extremely friendly with customers and loves to help with any needs from patients.
Dustin, Pharmacy Technician
Dustin is very thorough and dependable in making sure medications are dispensed properly. He goes out of his way to understand what the patient is needing and provides those services.